PEO
Taking the hassle out of benefits administration since 1995.

PAYROLL
Payroll done right and done on time.

HR CONSULTING
We don't call ourselves the Human Resource Resource™ for nothing.
About Us
Since 1995, we've provided expert human resources solutions to organizations of all sizes and across a number of industries. As The Human Resource Resource™, we specialize in all things payroll and HR-related, from providing direct deposits and preparing payroll tax forms to conducting HR assessments and creating employee handbooks. We're also a registered PEO, which gives us the opportunity to provide a comprehensive level of service to our clients.
In 2007, Angie Heim, current owner and president, bought TEG after working as the company's original payroll processor and business promoter for a number of years prior. Angie — a leader in the HR industry, a champion of community causes, and a valuable asset to TEG clients — has grown the company into the force it is today, all while establishing a unique office culture characterized by happy, innovative employees.
At TEG, we've been honored to receive a number of awards recognizing our business achievements and our unique company culture, including Madison Magazine's Best Places to Work Award and the Dane County Small Business Award. For as proud as we are of these awards, however, we're even more proud of the impact we've made on our community through our support of organizations like the Ronald McDonald House Charities of Madison and the Badger Prairie Needs Network.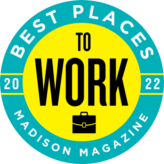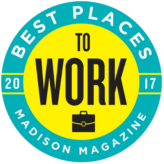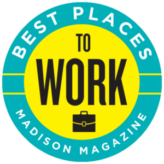 3x "Best Places to Work" Winner
Madison Magazine: 2015, 2017, & 2022